President
Judi hughes
USAF Retired, Former 628th Med Grp Cmdr, Commanders Liaison Chair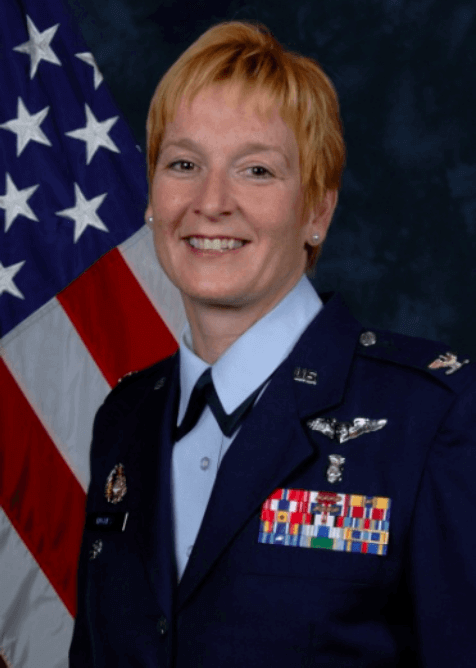 Col Judi Hughes retired from the US Air Force after 27.5 years of active duty service effective 1 Dec 2014. Immediately prior to retiring, she served as the Commander, 628th Medical Group, 628th Air Base Wing, Joint Base Charleston, South Carolina where she was responsible for the overall operation of medical services and medical readiness for the 628th Air Base Wing and 437th Airlift Wings.  
Immediately after retiring from the military, Judi worked for 1.2 years as the Co-manager of the Joint Base Charleston Consignment Shop, tripling their sales revenue and foot traffic allowing $30K to be put back into the military community through college scholarships and charitable donations. From 2015-2018 Judi served as a Board Member for the Charleston Research Institute (CRI) partnering with the Ralph H. Johnson VA Hospital and also serves as the Commander Liaison for the Palmetto Military Support Group (PMSG). As a PMSG Board Member, she was instrumental in the inaugural Lowcountry Salutes event held in April 2019 that recognized high school graduates who chose the military as their next career step. Col (ret) Hughes is also a member of the Local Elks lodge #242. 
Col Hughes is a graduated squadron commander and deputy group commander and has held positions at Air Staff, the Air Force Inspection Agency and in both inpatient and outpatient clinical arenas. Col Hughes graduated in 2006 from Air War College, Air University, Maxwell AFB, AL and held national certification in ambulatory care nursing. She served as the Chief Nurse at the military trauma hospital in Afghanistan.
Col Hughes was born and raised in Leominster, Massachusetts. She entered the Air Force in July 1987 after completing her Baccalaureate Degree in Nursing at Saint Anselm College in Manchester, NH. When not fund raising or planning multiple events, Judi enjoys time with her young adult children and time visiting family and friends wherever they may be.  
PROFESSIONAL EDUCATION
1987 Bachelor of Science in Nursing; Saint Anselm College, Manchester, NH

1998 Master of Science in Nursing; University of Texas Health Science Center, San Antonio, TX

2006 Master of Strategic Studies, Air War College-Resident, Maxwell AFB, AL
MAJOR AWARDS AND DECORATIONS
Legion of Merit

Bronze Star Medal

Meritorious Service Medal with 4 oak leaf clusters 

Air Force Commendation Medal with 1 oak leaf cluster

Meritorious Unit Award                                    

Air Force Outstanding Unit Award with 4 oak leaf clusters

Air Force Organizational Excellence Award

1998 Air Mobility Command (AMC) Company Grade Nurse of the Year

2010 Alumni Award of Merit, St. Anselm College